Last Updated: Sunday, 03 February 2019 17:11
Published: Sunday, 03 February 2019 17:11
Promising Daytona Performance Provides Motivation for Dylan Murry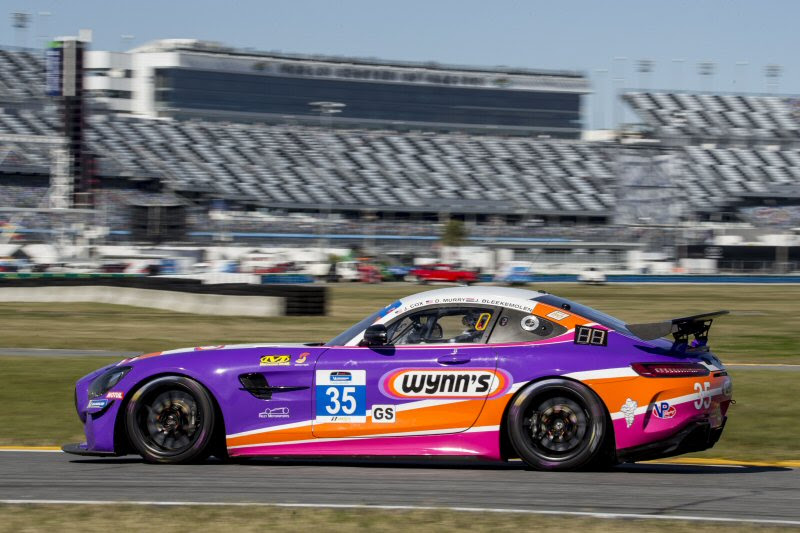 Photo Credit: Brian Cleary
Dylan Murry pilots the Wynn's Riley Motorsports Mercedes-AMG GT4 around the road course portion of Daytona International Raceway.
CUMMING, Ga. (February 1, 2019) – While the end result was clearly not what Dylan Murry had preferred following IMSA's 2019 season opener at Daytona International Speedway last week, the 18-year-old Georgia driver still managed a smile upon exiting his Wynn's Riley Motorsports Mercedes-AMG GT4.
"It actually was a frustrated smile because I knew the car was capable of winning the race," he said. "Had it not been for an oil cooler leak late in the race – when we were running third – I felt very confident that we could challenge for the win. While I was disappointed that the race ended a bit early, our performance really gave me confidence for the rest of the year."
Murry, along with co-drivers Jim Cox and Jeroen Bleekemolen, had the Mercedes in contention virtually from the start of the four-hour BMW Endurance Challenge at Daytona.
After Murry topped the leaderboard in final practice, Cox qualified 15th on the grid and kept the car clean during his one and only stint before handing the wheel over to Bleekemolen, who quickly worked his way up through the field into the top five. Murry then took the controls with two hours to go and eventually claimed third, before the oil cooler issue ended the team's day.
"The team confirmed that it was a rock that hit the oil cooler and punctured it," said Murry. "Despite the bad luck, I can't say enough great things about Riley Motorsports. They are truly one powerful team."
Murry and Cox will now turn their attention to the next event on the 2019 Michelin Pilot Challenge schedule – the two-hour Alan Jay Automotive Network race at Sebring International Raceway – Friday, March 15.
"Given our performance at Daytona, I'm anxious to get to Sebring," said Murry. "I'm actually going to be doing double duty at Sebring. I will also be driving the MLT Motorsports Ligier LMP3 in the Prototype Challenge race on Thursday (March 14) with co-driver Mike Thompson. That should be very exciting."
NBCSN will provide tape-delayed coverage of the BMW Endurance Challenge at Daytona race on Wednesday, February 6, from 1 p.m. to 3 p.m.
###